Imagine…
Your campground; filled with campers.
Simple, instant, online reservations.
No software to install
No setup fees
No monthly fees

We're not just another campground management solution…
Great Outdoor Vacations is not back-office management software. It's a platform that helps campers find you and book your campsites. Online. In seconds. It's the quickest and simplest way for you to get guests to your property.
---
Why Us?
Here are just a few of the many reasons…
Get Found.
No more guests Googling for campgrounds with 10+ open browser tabs.
No more trying to remember, "What was that website address again?"
Get listed in our nationwide campground search engine with lightening-fast, simple, map-based searching. If someone's looking to camp in your area, they'll find you.
Get Started for FREE →
---
Take the Hassle and Frustration Out of Reservations.
No requests for reservations that you have to approve or reject.
No double-booking.
No more using pencil-and-paper or some archaic and complex software for reservation tracking.
Availability and reservations are visible in real-time, with instant online booking, email confirmations and notifications for you and your guests.
Get Started for FREE →
---
Showcase Your Property.
No independent website to maintain.
No separate webhosting account to pay for and struggle to update.
Showcase your property right on your listing page with Great Outdoor Vacations. Add photos and rich descriptions of your campground. List activities and attractions. Show your guests why you are their best choice for outdoor recreation.
Have your own website? Great! Link to us for reservations. Want us to be your primary web presence? That's great too!
Get Started for FREE →
---
Sleep Easy. It's Simple.
No software to install. Ever.
No updates to run. Ever.
No third-party payment processor to deal with.
Great Outdoor Vacations handles it all. We're web-based and always on. It works from any web-connected device. Windows? Check. Mac? Check. Smart phone or tablet? Check. All of the above? Check. Check. Check.
And if you ever have questions, we're here to help. Your success is our success.
Get Started for FREE →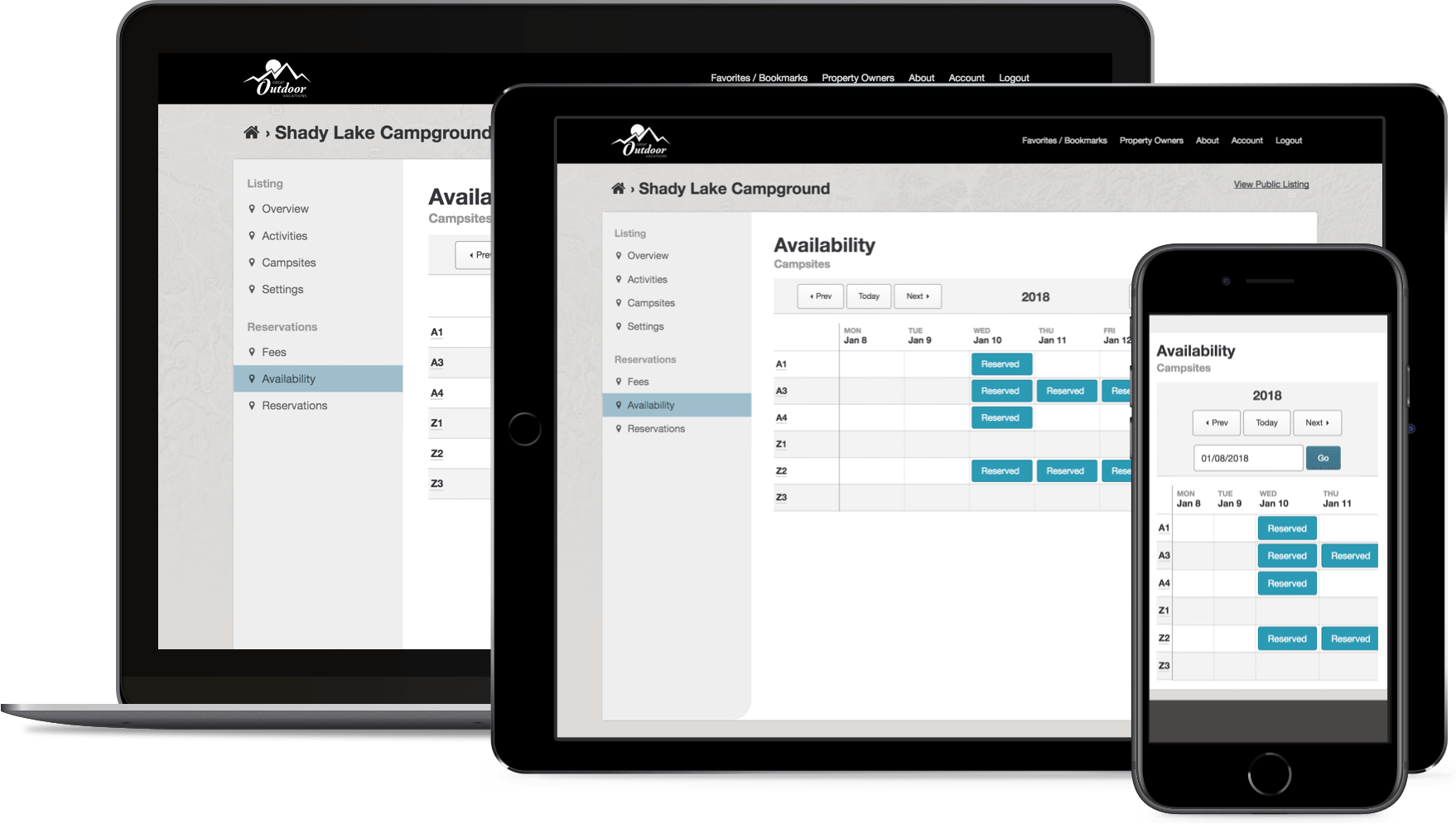 ---
Pricing.
No setup fee
No committment
Simple, straight-forward pricing
Take reservations online with no monthly fee and only 3.15% per reservation including the credit card processing fee*

*guests pay a 5.75% processing fee at checkout.

OR handle reservations yourself and add your property to Great Outdoor Vacations for a flat $25/mo. Try us free for the first 3 months.